Checking the Transmission Fluid in Your Car
It's relatively easy to check your car's transmission fluid level. It should be done approximately once a month. To get a precise measurement, you can examine the transmission while the engine is running-only after, though, it's a bit warmed up and on an even surface.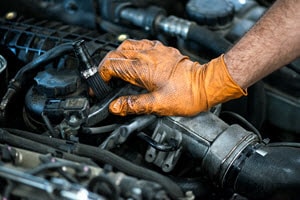 Before you check the transmission fluid, make sure to grab a rag or paper towels.
To check the fluid level, do the following:
Open the hood to the engine compartment and locate the dipstick for the transmission fluid. If you're unsure which dipstick is for the transmission, then refer to your owner's manual. The grip is usually a bright color, typically yellow or red.
Remove the dipstick and wipe off any fluid.
Re-insert the dipstick, making sure it's inserted completely. Then, remove it for a second time.
At the end of the dipstick, you will find an indicator for "hot" and an indicator for "cold."
If the transmission is hot or if the vehicle is completely warmed up, then examine the reading for hot.
If the fluid level is below the indicator for hot, fluid will have to be added. Add fluid as necessary, depending on the amount needed. Use a funnel and pour the liquid directly into the opening from where you extracted the dipstick.
Once you're done refilling, replace the dipstick.
After a few minutes, remove it to make sure you have accurately replenished the fluid.
After doing this procedure, also note the color of the fluid. It should be pinkish-red in color. If the fluid is dark, then there may be an issue with the automobile. If it is darker, then you should set up an appointment at the service department at Pecheles Honda.
Checking For Leaks
If you notice that the fluid reading is uneven or low or perhaps you realize that your automobile just is not working as efficiently as it always does, you should examine for any fluid leak, and this can be done easily.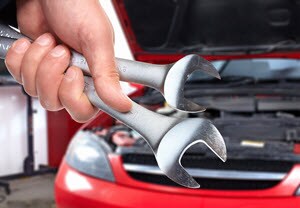 Place a generous bit of cardboard under the motor vehicle while it's not running.
Start the vehicle and wait for it to warm up.
Look underneath the car for any spillage or leaks on the cardboard.
If you see such any fluid on the cardboard, your vehicle potentially has a transmission fluid leak. You can fix this issue at your local auto service center near New Bern, Morehead, and Havelock, NC, Pecheles Honda.
Transmission Repair in New Bern NC
Your transmission is a fundamental part of your car. Without it, your car wouldn't run at all. To keep your transmission in a functioning condition, schedule any regular maintenance or repairs at Pecheles Honda in New Bern, NC.
Our team of highly trained automotive experts is ready, willing, and able to complete any transmission repair-from fixing a leak to installing a brand-new transmission, we do it all. Call us or plan your transmission repair by scheduling your service appointment online today.