One of the most important steps in buying a new Honda vehicle is to read car reviews. In them, you'll find valuable information about vehicle performance, technology, safety, and comfort features that you might not get from a simple list of vehicle specifications.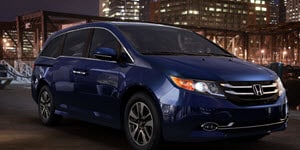 At Pecheles Honda, the goal of our vehicle reviews is to give you a virtual walk-through of a specific vehicle. That way, you know what features to look for when you take it for a test drive. Our reviews are educational and informative, and they act as a preview of a vehicle.
How to Use Vehicle Reviews When Buying a New Car
When you're reading a vehicle review, you're getting an introduction to a vehicle in the same way that looking at a person's social media site is a brief introduction to their life. But in the same regard, you'll only get part of the story.
The best way to really get to know a Honda vehicle is to get behind the wheel. We suggest using the Honda vehicle reviews on this page as a first step in getting to know the Honda brand. You can learn about the cars, SUVs, wagons, and vans that make up the Honda lineup and then get a closer look at your local Honda dealership.
Our hope is that our Honda vehicle reviews help you get to know a vehicle a bit, including whether it fits within your list of wants and needs. After that, it's up to you to decide whether it's the right match for your lifestyle and budget.
What to Do after Reading a Vehicle Review
Now that you have a better idea of what you should be looking at when shopping for your next Honda vehicle, it's time to put that knowledge to the test with a test drive at Pecheles Honda. We have the full Honda lineup available at our dealership, which means you can get an up close and personal view of the vehicles you're considering. 
Now that you have a better idea of what features you should be looking for, you can come up with a short list of questions to ask your sales associate during the test drive. Whether you want to know more about the infotainment system or the cost of regular maintenance, we'll have an answer for you.
Ready to get started? Check out the Honda vehicle reviews below, then schedule a Honda vehicle test drive at Pecheles Honda.